Press Information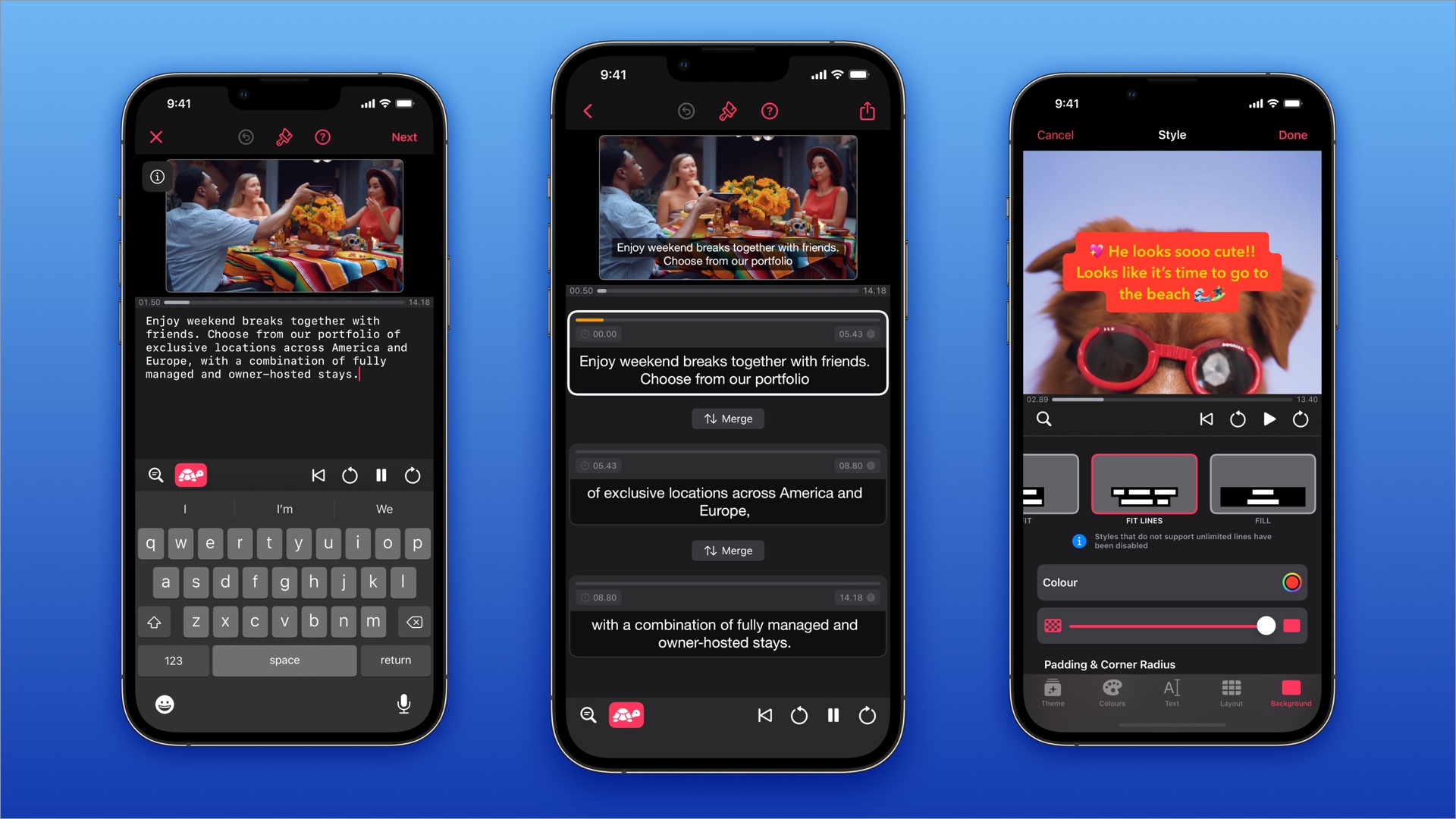 Overview — Promo Codes — Pricing — Version History — Origin Story — About Us — Media — Links — Contact
Thanks for checking out Captionista! I'm the developer Marc Palmer and I made this app with Mark Levy. We pour a lot of love into making this and the ideas behind it. If you need anything (e.g. a promo code) please contact me.
What makes our subtitling app different? We focus on the quality of the captions and subtitles, emphasising manual input of text and scenarios where there is no audio to transcribe. We help people get the most value out of their videos no matter which social platform they post to.
"Captionista is a fantastic tool for anyone who has ever wanted to add a bit of explanatory text to their videos" — MacStories
"A big win for accessibility on your videos" — TechRadar
"This wonderfully conceived app removes the faff from subtitling." — Stuff
Product Overview
Captionista is a free app for quickly adding accurate subtitles and captions to videos for iPhone and iPad running iOS 15 or better. It's primarily aimed at individuals, social media marketers and mobile journalists who need to quickly add text to short videos.
The current release is 1.1.3, available in the App Store. Here's a blog post with details of what's new in the latest significant release.
Using an entirely manual workflow without AI, it is designed to help you maximise impact and readability with full control of subtitle pacing and length.
How does it work? You type in all the text first, then use Timeline mode to tap to split the text at the right time while watching the video. This approach combines the splitting of text into subtitles with the timing in one action. The export runs all on your device in seconds using our high quality subtitle rendering.
The streamlined workflow is great for adding text to social videos even if they don't have audio or you don't want to actually speak on the video.
Watch the 1-minute press demo video for a whirlwind tour: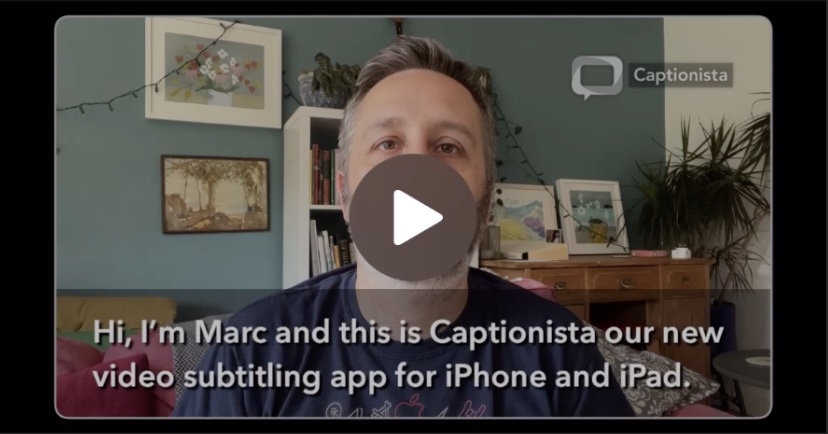 The app works hard to help you get great results by warning of potential issues with your source video and subtitle text in Pre-flight Check, offering only coherent style options, and Smart Insets to help avoid social app UI elements.
"🤔 No AI, you say?" — Yes, that's right and we consider it a superpower of the UI design that you can subtitle so fast without it. There's a ton of AI-based subtitling services out there, but we believe the best results come from manual subtitling which encourages looking more closely at the results.

We should care about the quality of subtitles out of respect for the content, and the people reading the subtitles; whether for accessibility, having the sound off on their devices, or because there is no speech in the video. We humans have real intelligence — we should use it! A video is not done until it is subtitled.
Key Features
Script editor with video player, slow mode and skip controls for quickly typing the text to add to the video all at once.
Tap-Time in the unique timing editor where you tap on a word to split the text at the current video time.
Free-form editing automatically updates subtitles in the timing editor. Adjust timing, merge and re-split subtitles easily without affecting later subtitles.
Pre-flight Check warns about video size, quality and length issues for common social networks.
Smart Insets move subtitles to avoid the user interface of apps like TikTok and Instagram Reels.
High contrast, easy to read themes and colour schemes.
Looping video player makes it easy to keep reviewing progress.
Smart Zoom focuses in on just the subtitles in the video.
Warnings about reading speeds and subtitles that will not show in full.
Advanced Style editor with simple intelligent controls that work together to give great results every time.
Saved Themes allow Pro users to save their own subtitle styles for consistent results in multiple videos, synced via iCloud. There is also support for sending themes to other users as a file.
Export without audio if the sound is not part of your final media.
Auto up-scale of low resolution videos up to 1080p for high quality subtitle text.
Option to scale down excessively high resolution videos down to 1080p for faster uploads.
No network required because manual subtitling means you always work offline on your device, whether you're on a plane or sheltering in a bunker in a war zone.
Promo Codes
We ❤️ giving out promo codes to press — just mail me and ask!.
We also offer free subscription promo codes to activists from recognised campaigners/groups in support of causes important to us including, but not exclusively:
climate change and Green issues
reproductive and human rights
eradicating poverty
the Russian war on Ukraine
Pricing
Captionista is free for all users with some style limitations and a video watermark on export.
The Pro subscription unlocks everything and removes the watermark for $4.49 per month or $21.99 per year in the U.S.
Version History
2022
Release 1.1 — Saved Themes, "Bubbles" and Export to Photos added. (November 14th)
Releases 1.0.1 through 1.0.5 — Bug fix releases (October)
Release 1.0 — First release in the App Store. (August 30th, 2022)
Origin Story
As a UK Green Party activist I (Marc Palmer) was adding subtitles to video posts in the 2019 General Election. Even the best available tools were impractical for getting fast, high quality results needed in political campaigns. Most had a slow UI for editing one subtitle at a time, and no good native options on iOS at all. I had to settle for a web-based product on my Mac.
Crafting good emotive subtitles needs human care for readability and timing. This led to the idea for Captionista's unique workflow — combining splitting of text and timing with the current video position and "tap a word to split" gesture.
About Us
Montana Floss Co. Ltd. is a tiny two-person indie app business based in Stroud, UK.
Marc Palmer is a software engineer and product designer consulting on iOS apps for the last 10 years, including apps featured repeatedly in the App Store and on devices in Apple Stores worldwide.
Mark Levy is an illustrator focusing on pop culture poster art and portraits.
Together we designed and built Captionista starting in 2020. We made a couple of "toy" apps a few years back, and this is our first foray into truly commercial apps that we have released.
Media
Download "all the things" as a .zip
Icon
Screenshots framed — iPhone 14 Pro Max
Screenshots framed — iPad Pro (12.9-inch) (6th generation)
Screenshots unframed — iPhone 14 Pro Max
Screenshots unframed — iPad Pro (12.9-inch) (6th generation)
Links
App Store link: https://itunes.apple.com/app/id1523464363
Web site link: https://captionista.app
Company site link: https://montanafloss.co
You can follow Captionista on Twitter or Instagram.
Our company Montana Floss Co. is also on Twitter
Contact Details
If you require any further details please contact Marc Palmer marc@montanafloss.co.